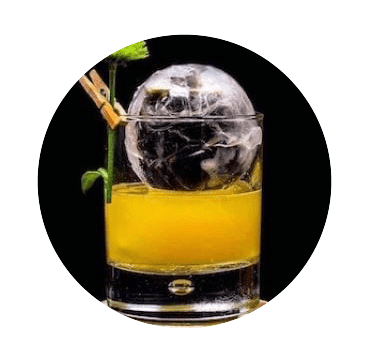 Slow-Melting Sphere Ice Cubes for Spirits and Cocktails
Elevate the appearance of your top-shelf spirts with sphere ice from Hoshizaki at your Chicago bar or restaurant. Chill spirits thoroughly while retaining their delicate flavor with sphere ice. This type of ice cube melts nice and slow, so your customers can take their time sipping on their favorite beverages with full flavor.
Slow-Melting Sphere Ice
---
Hoshizaki's sphere ice ball makers use only the cleanest water in the final ice process, so you'll never have to worry about cloudy cubes. Hoshizaki restaurant ice makers also remove high-mineral water during the ice-making process giving you an even clearer ice. Perfect for any cocktail, sphere ice is made by fusing to half-dome ice shapes together to create a perfectly round ice sphere.
---
Get Specialty Sphere Ice When You Need It
---
Sphere ice makers like the Hoshizaki IM-50BAA-Q are compact enough to fit under bars, making them the ideal commercial ice maker for bartenders. You'll get around 500 solid sphere ice cubes during each cycle as these machines can produce up to 50 lbs. of ice a day. Even the busiest bars in Chicago will love these machines as their stainless-steel exteriors make them durable inside and out.
---
Innovative Design with a Dependable Ice Supply
Your lease from Automatic Icemakers includes biannual maintenance, professional ice machine service, cleaning, sanitizing, water filtration, repairs, and more. We help you keep you ice supply in Chicago safe and sanitary for your customers year-round. Sphere ice is the easiest way for you to elevate your guests' experience every night!
Key Specifics:
---
| | |
| --- | --- |
| Ice Type | Sphere Ice |
| Brand | Hoshizaki |
| Shape | Sphere |
| Available Models | IM-50BAA-Q |
| Diameter | 1.8" |
---
Technical Documents
---
Hoshizaki Ice